STEPHEN HAWKINS
Associated Press

DALLAS — Caitlin Clark overwhelmed the reigning champions with another sensational game, scoring 41 points to help Iowa spoil South Carolina's perfect season with a 77-73 victory on Friday night in the Final Four.
The spectacular junior guard set a record for the highest-scoring semifinal game and became the first women's player to post back-to-back 40-point games in the NCAA Tournament. She now has the Hawkeyes in a spot they've never been in before — one victory away from a national championship.
They'll have to beat another SEC team to do that as Iowa (31-6) will face LSU in the title game on Sunday afternoon. The Tigers beat Virginia Tech in the other national semifinal.
Thanks to the spectacular play of Clark and the historic year by South Carolina, this was one of the most talked about and highly anticipated matchups in women's Final Four history,
The game lived up to the hype surrounding it— the best player vs. the best team — much to the delight of the sellout crowd of over 19,000 fans.
Coach Dawn Staley and South Carolina (36-1) had won 42 in a row, including last year's championship game.
This was Iowa's first appearance in the Final Four in 30 years. The last time the Hawkeyes advanced this far was 1993 and C. Vivian Stringer was the coach of that team that lost to Ohio State in overtime.
Clark wowed the crowd that included Harper Stribe, a young fan of the team who has been battling cancer. She was featured in a surprise video that informed the Hawkeyes' star that she was the AP Player of the Year.
Trailing 59-55 entering the fourth quarter, South Carolina scored the first five points to take the lead. Clark answered right back with two deep 3-pointers and an assist to Monika Czinano to give the Hawkeyes a 67-62 lead.
South Carolina got within 69-68 on Raven Johnson's 3-pointer before Clark got a steal for a layup with 3:32 left. Neither team scored again until star Aliyah Boston was fouled with 1:37 left. She made the second of two free throws.
Clark then scored another layup on the other end out of a timeout to make it a four-point game. After a layup by Zia Cooke made it a two-point game with 58 seconds left, the Hawkeyes ran the clock down with McKenna Warnock grabbing a huge offensive rebound off a Clark miss with 18 seconds remaining.
Clark hit two free throws after South Carolina fouled her with 13.5 seconds left. They were her 38th and 39th point, moving her past Nneka Ogwumike for the most points scored in a Final Four semifinal game.
After a putback by Johnson with 9.9 seconds left got the Gamecocks within 75-73, Clark sealed the game with two more free throws.
As the final seconds went off the clock Clark threw the ball high in the air and galloped around the court.
The loss ended a spectacular season for the defending champion Gamecocks, who were trying to become the 10th team to go through a season unbeaten.
Cooke led the Gamecocks with 24 points. Slowed by foul trouble, Boston had just eight points and 10 rebounds as the Hawkeyes packed the paint, daring South Carolina to shoot from the outside.
The Gamecocks finished 4-for-20 from behind the 3-point line and couldn't take advantage of their 49-25 advantage on the boards that included 26 offensive rebounds.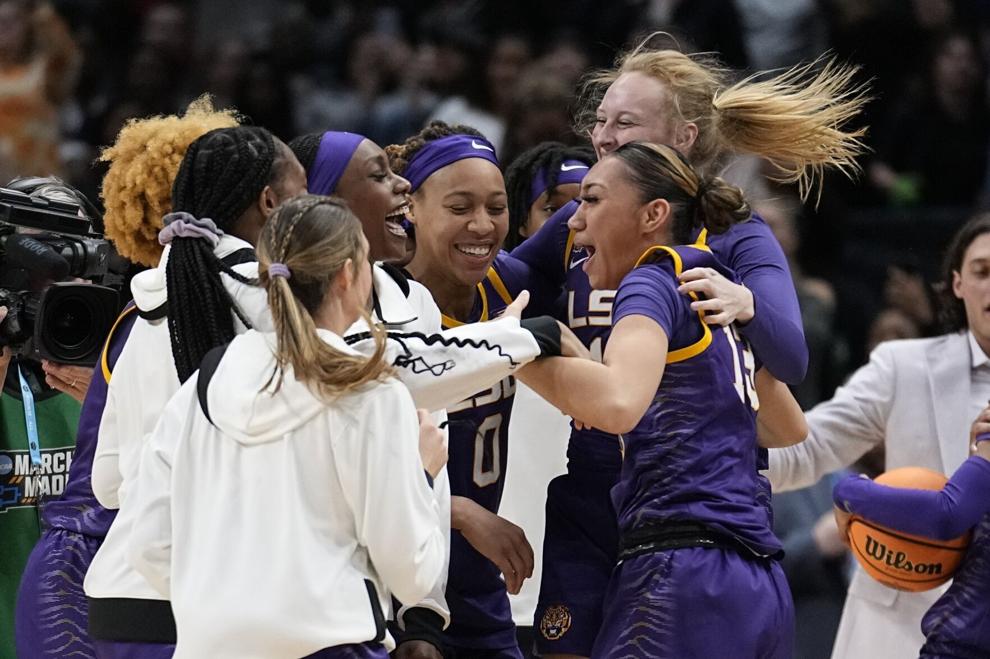 LSU 79, VIRGINIA TECH 72: Alexis Morris scored 27 points and had two of her misses in the fourth quarter turned into putback baskets by Angel Reese in a big run as LSU rallied to beat top-seeded Virginia Tech.
Reese finished with 24 points and 12 rebounds for LSU (33-2), which is going to the national championship game for the first time.
The win came in the second season since feisty and flamboyantly dressed coach Kim Mulkey — in a carnation pink top this time — returned to her home state to take over a Tigers program that lost five consecutive national semifinal games from 2004-08 the only other times they made it this far.
Mulkey, who won three national titles in four Final Four appearances over her 21 seasons at Baylor, is only the second coach to take two different teams to the national championship game. The other was C. Vivian Stringer, with Cheyney in the inaugural 1982 women's tournament and Rutgers in 2007.
Trailing 59-50 after three quarters, LSU went ahead with a 15-0 run over a five-minute span in the fourth period. They led for the first time since late in the first half when Falu'jae Johnson had a steal and drove for a layup to make it 64-62.
Reese had six points in that game-turning spurt, including a basket after Morris' attempted 3-pointer clanked off the front rim. Reese had a second-effort follow of her own miss after rebounding another miss by Morris.
LaDazhia Williams added 16 points for LSU.
Elizabeth Kitley had 18 points and 12 rebounds for Virginia Tech (31-5), the ACC champion that was in the Final Four for the first time. Georgia Amoore and Kayana Traylor each had 17 points, while Cayla King had 14.
Amoore set an record for the most 3-pointers in a single NCAA Tournament with 24, though she had a tough night shooting — 4 of 17 overall, including 4 of 15 from beyond the arc. She passed Kia Nurse's record 22 set in the 2017 tourney for UConn, which lost in the national semifinals on the same court. Arizona's Aari McDonald had 22 in six NCAA tourney games two years ago.
The big run for LSU came right after Amoore made her last 3-pointer with 7:52 left for a 62-57 lead. The Hokies didn't make another basket until King's 3 with 1:19 left.
Morris had opened the fourth quarter with a 3-pointer for LSU, then had a driving layup in a quick 7-0 run that prompted a timeout by Hokies coach Kenny Brooks.
The Hokies ended the first half with an 11-0 run to lead for the first time, at 34-32 on Traylor's driving layup with 53 seconds left.
LSU went scoreless over the last 4:48 while missing its last six shots after Virginia Tech switched to a zone defense. That included three misses by Reese, who had a late shot blocked by Kitley.
Virginia Tech had trailed for only 9 1/2 minutes combined in its first four NCAA Tournament games, easily the best mark by the four teams that made it to Dallas.
But the Tigers led for 17:55 of the first half with the Hokies getting off to such a slow start shooting — they missed eight of their first nine shots — that an LSU cheerleader had an assist even before they officially had a shot.
King was charged with a turnover on a ball that hit the rim and bounced over the top of the backboard and got stuck there. With encouragement from officials and others at that end, a male cheerleader lifted up a female cheerleader, who knocked the ball down.