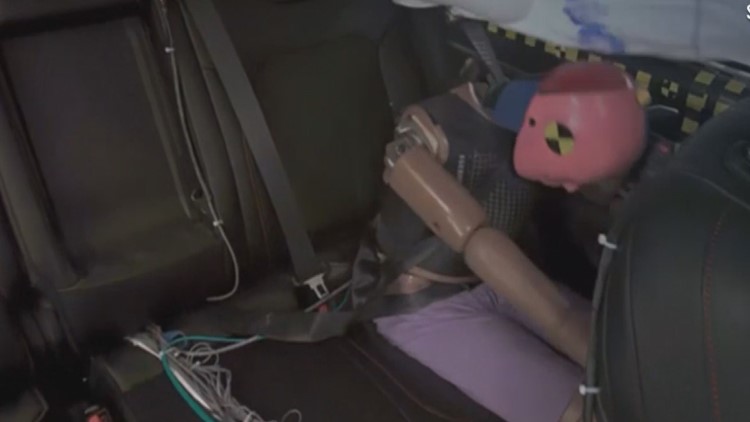 The Insurance Institute for Highway Safety found a class of vehicles had poor ratings for rear-seat safety.
GREENSBORO, N.C. — New crash test data from the Insurance Institute for Highway Safety found several midsize SUV models scored poorly in protecting passengers in the rear seats. Six of the 13 tested were rated poor for the rear seat.
"The majority of the midsize SUVs that we evaluated have a lot of work to do to improve safety for the rear seat position," Raul Arbelaez, vice president of the IIHS Vehicle Research Center, told CBS News.
Those six were the Honda Pilot, Hyundai Palisade, Jeep Grand Cherokee, Jeep Wrangler 4-door, Mazda CX-9 and Nissan Murano.  
"We just saw injuries, injury measures on the dummy, that were too high on the chest," Arbelaez said. "High levels of head and neck forces." 
This is a change from years past because Arbalaez says testing has become tougher.
"I wouldn't say that any of these vehicles became less safe," Arbelaez said. "We continue to move the goalposts and create more challenging tests that we feel give consumers information about which vehicles are the safest." 
Four of the 13 SUVs received good ratings for backseat safety: the Ford Explorer, Ford Mustang Mach-E, Subaru Ascent and the Tesla Model Y. Three others received marginal ratings: the Chevrolet Traverse, Toyota Highlander and Volkswagen Atlas.
While there were some rear-seat issues, all 13 tested vehicles earned good marks for driver protection.
The Alliance for Automotive Innovation, a trade association that represents several vehicle manufacturers, provided CBS News with the following statement Tuesday in response to the IIHS report:  
"Safety is the auto industry's top priority. Vehicles continue to get safer as automakers across the board test, develop and integrate promising new technologies to help prevent crashes and protect occupants in the event of a crash. While innovations continue to make the driving experience safer, seatbelts and seatbelt reminder systems are a critical safety component to today's vehicles, and we encourage all occupants to ensure they are belted on every trip."